You've received an invitation to a wedding, and you're excited to celebrate the happy couple. Also, you've already picked out a beautiful dress or suit, and you're ready to accessorize.
But then you face a dilemma: can you wear white shoes to a wedding? You love how white shoes look fresh and elegant, but you also don't want to offend the bride or break any etiquette rules.
You've heard conflicting opinions on whether white shoes are acceptable or not, and you're confused and unsure. What should you do?
Don't worry, we're here to help. In this blog post, we'll explain everything you need to know about wearing white shoes to a wedding, and how to avoid any fashion faux pas.
When It's Allowed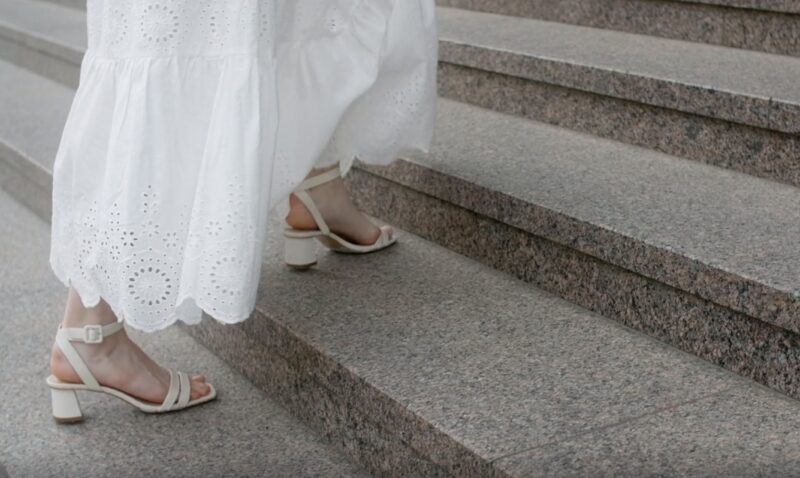 Despite the potential pitfalls, there are some situations where you can wear white shoes to a wedding without any problems.
Align with Dress Code
Some couples may choose to have a specific theme or color scheme for their wedding, and ask their guests to dress accordingly. For example, they may request an all-white or black-and-white attire, in which case white shoes would be perfectly acceptable and even encouraged.
If you're not sure about the dress code, you can always check the invitation, the wedding website, or ask someone close to the couple.
The Color is not Solid White
If you want to wear white shoes, but don't want to risk looking too bridal, you can opt for shoes that have some other colors or details on them. You can choose shoes that have prints, patterns, embellishments, or accents in different hues.
This way, you can still enjoy the freshness and elegance of white, but also add some contrast and interest to your outfit.
Different Focal Point
Another way to wear white shoes to a wedding is to make sure they are not the focal point of your look. You can do this by choosing shoes that are simple and understated, such as flats, sandals, or pumps.
You can also balance them out with other accessories or clothing items that are more colorful or eye-catching. For instance, you can wear a bright dress, a statement necklace, or a bold hat, and let them be the center of attention, while your white shoes blend in with the background.
Why Is It Controversial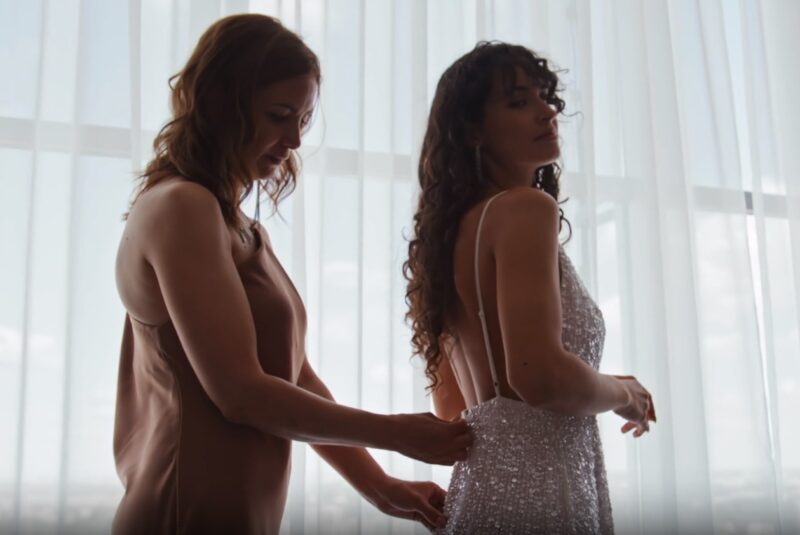 There are a few reasons why wearing white shoes to a wedding can be considered controversial.
Clashing with the Bride's Dress
One of the main reasons why white shoes are controversial for guests is that they can clash with the bride's dress. White is the most common color for wedding dresses, especially in Western cultures, where it symbolizes purity and innocence.
Wearing white shoes as a guest could make you look like you're trying to upstage the bride or copy her style, which is considered rude and disrespectful. Even if the bride is wearing a different color, they could still draw attention away from her and make you stand out too much.
Impracticality and Inappropriateness
Another reason why white shoes are tricky for guests is that they can be impractical and inappropriate for certain venues and seasons. For instance, if you're attending an outdoor wedding, you could get dirty or damaged by the grass, sand, or mud.
You could end up with stained or scuffed shoes that look unattractive and unprofessional. You may also feel uncomfortable or embarrassed by your shoes, and have a hard time enjoying the wedding.
Mismatched Appearance
If you're attending a winter wedding, white shoes could look out of place and too summery. White shoes are usually associated with warm and sunny weather, and wearing them in the cold and snowy season could make you look out of touch or clueless.
Furthermore, there is a potential risk of frostbite or causing accidents by slipping on icy surfaces if you choose to expose your feet to winter conditions. Additionally, it may compromise the overall aesthetic of the wedding as your attire might clash with the wintry theme or color scheme, resulting in a mismatched and uncoordinated appearance.
Basic Tips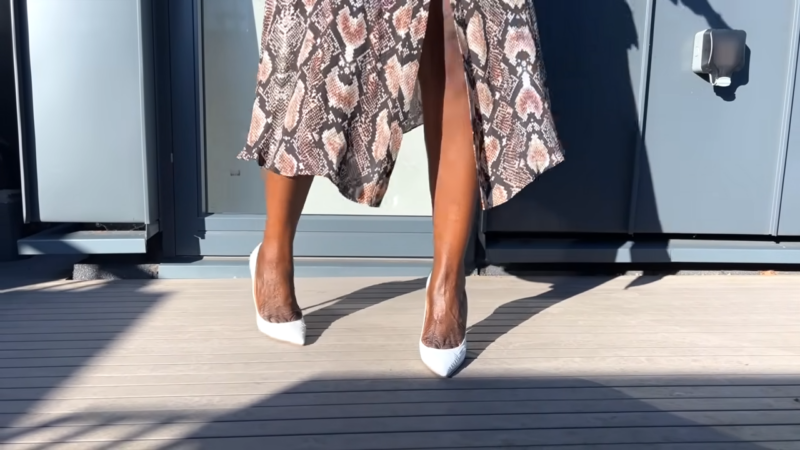 White shoes are a classic and elegant choice for a wedding, but they can also be tricky to style. You want to look chic and sophisticated, but not too matchy-matchy or boring.
How do you pull off white shoes without looking like a bride or a bridesmaid? Here are some tips and guidelines on how to style them for a wedding.
Match Shoes with Your Outfit
White shoes can go well with almost any color, but you need to make sure that the shade of white matches the tone of your outfit. If you're wearing a warm-toned dress, such as red, orange, or yellow, you should opt for a cream or ivory white shoe.
In case you're wearing a cool-toned dress, such as blue, green, or purple, you should go for a bright or pure white shoe. If you're wearing a neutral-toned dress, such as black, gray, or beige, you can choose any shade of white that suits your preference.
Right Size and Shape
They can make your feet look bigger or smaller, depending on the size and shape of the shoe. To avoid this, you should choose a shoe that fits your foot well and flatters your leg shape.
For instance, if you have small feet, you can wear white shoes with a pointed toe or a high heel to elongate your foot. If you have large feet, you can wear white shoes with a round toe or a low heel to balance your foot.
If you are blessed with shorter legs, opt for white shoes with a low-cut vamp or a sleek slingback style to give the illusion of elongated legs. In contrast, if your legs are naturally longer, go for white shoes with a higher vamp or a stylish strap to add some visual separation and balance to your foot.
Keep Them Clean and Polished
White shoes can easily get dirty or stained, especially if you're attending an outdoor wedding. To prevent this, you should clean and polish your white shoes before and after wearing them.
You can use a soft cloth, a mild soap, and some water to wipe off any dirt or dust. You can also use a white shoe polish or a white eraser to remove any scuffs or marks. You should avoid using bleach or harsh chemicals, as they can damage the material or the color of your white shoes.
How To Style Examples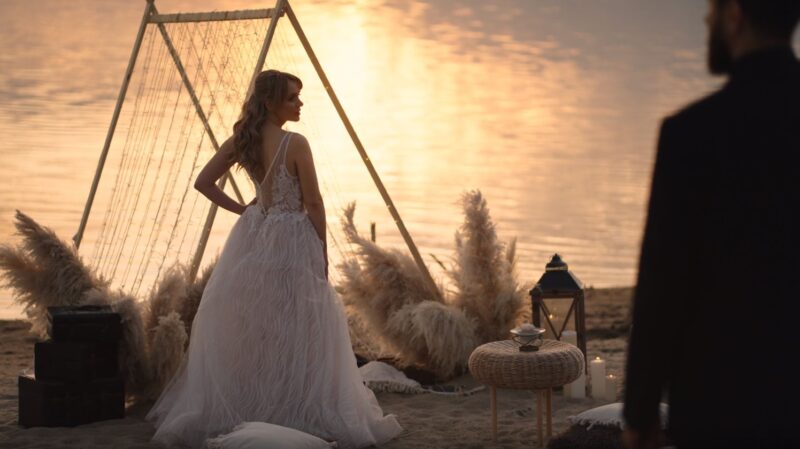 Now that you know some general tips and guidelines on how to style white shoes for a wedding, let's look at some specific examples of how to style white shoes for different types of weddings.
Formal Party
Attending a formal wedding calls for an air of tradition and sophistication. Opt for a long or midi dress, choosing understated yet elegant colors like navy, burgundy, or emerald.
Complement your attire with white pumps or high-heeled sandals. Accessorize with understated, classic jewelry such as pearls or diamonds, and complete your look with a sleek, small clutch in a harmonizing or contrasting hue.
Casual Party
Casual weddings offer a chance to embrace a more relaxed, personal style. Feel free to choose a short or knee-length dress, perhaps in lively colors or patterns like pink, yellow, or floral.
White flats or comfortable sneakers are ideal footwear choices. Add a touch of fun with playful, colorful jewelry – think beads or tassels. A large, informal tote or backpack in a coordinating or bold color can serve as a practical yet stylish accessory.
Beach Party
Beach weddings are all about romance and enjoying the natural beauty of the seaside. A maxi or wrap dress in light, pastel shades such as white, blue, or lavender is perfect for this setting.
Pair it with white wedges or espadrilles for comfort and style. Accessorize with bohemian-inspired jewelry like shell or feather accents, and carry a straw or rattan bag for a touch of beach elegance.
Garden Party
Embrace the enchanting atmosphere of a garden wedding with a midi or tea-length dress, adorned in floral or lace patterns in colors like pink, green, or cream. White pumps or comfortable flats are suitable footwear choices.
Add a touch of vintage charm with jewelry featuring pearls or crystals, and carry a small, delicate clutch that complements the natural beauty of the garden setting.
Dos and Don'ts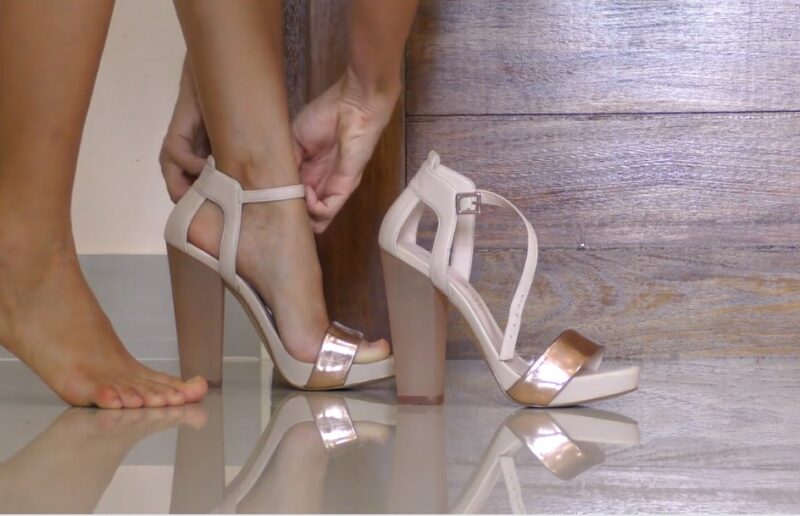 Finally, here are some dos and don'ts of wearing white shoes to a wedding.
Embrace Them with Elegance
White shoes can be a striking and fashionable choice for a wedding. Embrace them with elegance and self-assurance.
Maintain a poised posture, wear a bright smile, and let your eyes sparkle with joy. Pair your white shoes with a demeanor that's both positive and approachable, fully immersing yourself in the wedding's festivities.
Avoid Pairing with White Socks or Stockings
Combining white shoes with white socks or stockings can create an overly simplistic or bridal look, potentially detracting from your overall ensemble. Opt instead for bare legs or choose hosiery in nude or sheer tones.
Steer clear of white leggings or tights as well, as they can impart a too-casual or less-sophisticated vibe.
Choose Comfort and Confidence Over Trend
White shoes aren't a universal fit for everyone's style, and they can be quite a bold choice for a wedding. If you feel any hesitation or discomfort about wearing white shoes, it's wise to select a different color or style that resonates more with your personal comfort and fashion sense.
The key is to wear something that brings out your best self, reflecting your unique personality and preferences.
FAQ
Can men wear white shoes to a wedding?
Yes, men can wear white shoes to a wedding, especially if the event is during the daytime or in a warm season. White loafers or brogues can be a stylish choice for a summer or beach party. However, it's important to ensure they complement the suit and the overall formality of the event.
Are white shoes appropriate for a winter ceremony?
White shoes can be worn to a winter wedding, but it's advisable to choose styles that suit the season, like closed-toe pumps or boots. It's also important to consider the practicality, as white shoes might get dirty easily in winter conditions.
How can I make my white shoes stand out?
To make white shoes stand out, choose a pair with unique details like embellishments, interesting textures, or a distinctive style. Pairing them with a simpler outfit can also help the shoes become a focal point of your look.
Is it okay to wear white shoes to a black tie?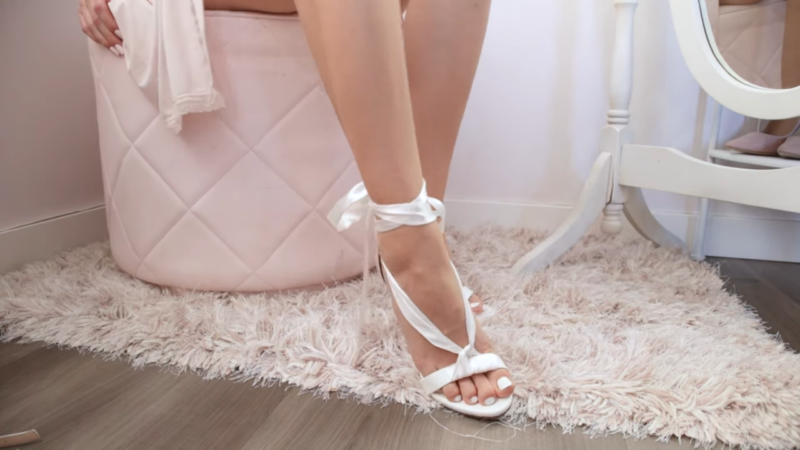 White shoes can be worn to a black-tie wedding, but they should be elegant and formal. For women, a pair of sophisticated white heels works well, while men might opt for polished white dress shoes. The key is to keep them refined and in harmony with the rest of your attire.
What type of white shoe is best for an outdoor event?
For an outdoor wedding, choose white shoes that are comfortable and suitable for the terrain. Wedges or block heels are ideal for women to avoid sinking into grass, while men might choose sturdy, stylish loafers. It's also wise to select materials that can withstand outdoor elements.
How do I maintain white shoes during an event?
To maintain white shoes at a wedding, it's a good idea to carry a small cleaning kit with a soft cloth and gentle cleaner. Avoid walking on potentially dirty or wet surfaces, and be mindful of your activities to keep your shoes looking pristine throughout the event.
Final Words
White shoes are a great option for a wedding, as they can add some freshness and elegance to your outfit. However, you need to know how to style them properly and follow some tips and guidelines to avoid any fashion faux pas or etiquette blunders.
In this blog post, we have covered some general tips and guidelines on how to style white shoes for a wedding. We hope that this blog post has helped you to learn how to style white shoes for a wedding and that you will have a wonderful and memorable time at the wedding.